Sarah Brislin, Ph.D.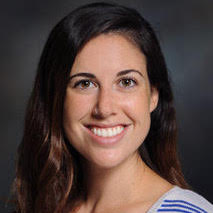 Postdoctoral Fellow
brislinsj@vcu.edu

Education
B.A. in Psychology; Emory University
M.A. in Clinical Psychology; Florida State University
Ph.D. in Clinical Psychology; Florida State University
Research Interests
Keywords: childhood and adolescent development; neuroimaging; electroencephalography (EEG); personality and temperament
My research interests focus broadly on determining biological mechanisms that contribute to the expression and development of externalizing behavior in adolescence. I am particularly interested in understanding the biological, environmental, and developmental influences on the emergence, persistence, and desistance of antisocial behavior and substance use in adolescence and early adulthood. Towards this end, I incorporate a broad range of methods to better understand this phenotypic expression. I am also trained as a clinical psychologist and am interested in translating these mechanistic findings into clinically relevant measures or interventions for at-risk youth.
Links
Selected Publications
Brislin, S.J.,

Martz, M.E., Joshi, S., Duval, E.R., Gard, A., Clark, D.A., Hyde, L.W., Hicks, B.M., Taxali, A., Angstadt, M., Rutherford, S., Heitzeg, M.M., Sripada, C. (in press). Differentiated Nomological Networks of Internalizing, Externalizing, and the General Factor of Psychopathology ("P factor") in Emerging Adolescence in the ABCD Study.

Psychological Medicine.

https://doi.org/10.31234/osf.io/d6htz
Brislin, S. J., Clark, D. A., Heitzeg, M. M., Samek, D. R., Iacono, W. G., McGue, M., & Hicks, B. M. (2020). Co‐development of alcohol use problems and antisocial peer affiliation from ages 11 to 34: Selection, socialization, and genetic and environmental influences. Addiction

.
Brislin, S. J., Hardee, J. E., Martz, M. E., Cope, L. M., Weigard, A., Zucker, R. A., & Heitzeg, M. M. (2020). Alcohol expectancies mediate the association between the neural response to emotional words and alcohol consumption. Drug and alcohol dependence

,

209

, 107882.

Brislin, S. J., & Patrick, C. J. (2019). Callousness and affective face processing: Clarifying the neural basis of behavioral-recognition deficits through the use of brain event-related potentials. Clinical Psychological Science

,

7

(6), 1389-1402